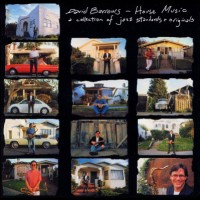 "House Music:  A Collection of Jazz Standards and Originals" – Get it on iTunes
Recorded in October 1998, released in 1999.
By David Barrows
"House Music" was a record I made with a brilliant rhythm section consisting of some of my favorite San Francisco Bay Area musicians, include Jack Gates on guitar, Ari Munkres on bass, and Kevin Mummey on drums. I'm proud of this record; it seems to have stood the test of time reasonably well and I get a lot of complements about it. As it was my first CD it was an important step for me. I play soprano, alto and tenor on it, and there is a mix of straight-ahead and Latin-tinged standards and originals as well as some free improv stuff.   –David Barrows
PLAUDITS FOR "HOUSE MUSIC":
"From straight-up standards to touchstones of Afro-Caribbean, bossa nova, flamenco, free jazz and the blues, saxophonist Dave Barrows offers a diverse sampler. Barrows' limber, lithe saxophone slides easily over the mix, joined by guitarist Jack Gates, bassist Ari Munkres, and drummer Kevin Mummey in this all-acoustic recording. Intelligent jazz with a generous dollop of soul and sophistication, "House Music" warms the room with three original Barrows compositions and covers of Mongo Santamaria's "Afro Blue," Chick Corea's "La Fiesta," Milt Jackson's "Bag's Groove," and Luis Bonfa's "Manha de Carnaval."
— Wayne Saroyan, Bay Area jazz writer for the Contra Costa Times and www.jazzwest.com
"Delighted with your CD, beautifully done. I mean it as an extreme compliment when I say that your alto brings to mind Paul Desmond, one of the very few alto men after Bird who did not try to sound like him. And the other musicians are up to your level. Whatever I can do to help promote your CD, just ask."
— Grover Sales, Bay Area jazz scholar, teacher and author
"Dave Barrows' sax sound has a unique, lithe, ever so gritty, 'touch-n-go' quality to it. He can sound intense without the histrionics. Opening with a bass groove by Ari Munkres on an original called 'Rise and Fall,' it just started to cascade from there – Latin grooves, great tight quartet, guitar from Jack Gates and 'Dejonette-ish' fill and fury with drummer Kevin Mummey – very nice outing overall."
— Alisa Clancy, jazz radio personality, KCSM radio FM 91.1 ("The Bay Area's Jazz Station")
"Thanks for dropping off your new album. I'm listening to it, and enjoying it now. I like the instrumentation, and you guys sound good, subtle, fluid. Nice mix of originals and standard jazz tunes. Reminded me of Chico Hamilton's records, among others."
— George Hughes, Bay Area jazz radio personality
"Now THAT sounds like JAZZ."
— Pete Escovedo, legendary bandleader and percussionist.
"House Music – A Collection of Jazz Standards and Originals"
© 1999 David Barrows and Hounds of Renown Music (ASCAP)
David Barrows, saxophones · Jack Gates, guitar ·
Ari Munkres, bass · Kevin Mummey, drums
Recorded October 13, 1998 by Dave Bell,
Bell Boy Studios, Richmond, CA, USA
Mixed & mastered at Hounds of Renown Studios, Oakland, CA, USA
Produced by Dave Barrows and Mark Schleunes
Art Design by Dave Patch
Photography by Tom Erikson