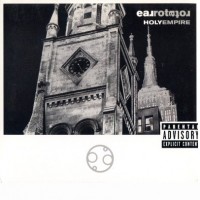 earRotator:  "Holy Empire" (released in 2004) – get it on iTunes, Amazon or CDbaby
As George Bush stoked the fires of war in 2002, Dave Barrows and Mark Schleunes looked around at the music scene expecting to find many artists speaking out against the war movement in their music and interviews. Frankly, we were disappointed and disgusted with the cautious positions and tepid responses of mainstream artists, especially those who had previously represented themselves as "alternative" and made money from doing so. So we decided to start earRotator and take an overtly anti-war, anti-Bush musical message to the streets, literally.
We wrote about 10 songs presenting our take on the way things were going, some serious, some humorous. We recorded the music and made videos for each song incorporating and recontextualizing news footage ripped from various sources. Since we only had two musicians (Dave on sax and vocals and Mark on guitar and vocals), we put the bass, drums and other instruments on a DVD along with the videos. We got one of the first LCD screens visible in daylight and created a battery-powered, portable audio/video projection system that we could push down the street on two handtrucks. In a sense, we were a "Karaoke" act playing along with the DVD, but this approach allowed us to pursue a guerilla performance strategy of quickly setting up in almost any urban location to play our videos and songs. We were kicked out of many areas after brief performances – UC Berkeley, Union Square in San Francisco, etc.
In one memorable night performance in Mountain View, we used a video projector to project our subversive videos 30 feet high on the side of a coffee shop in the plaza. And people responded (generally) very favorably to the message we presented, though we do recall one guy coming up to us and saying that we were "going to get in trouble" for what we were saying. After acquiring permits from the city of Berkeley, we played regularly on the corner of Telegraph and Haste across from Amoeba Records for over a year. We retired the political performance part of earRotator in 2006 and continued to write songs, two of which have found their way onto the Mark Schleunes CD Mongrel: "Goin' Down Tomorrow" and "Girl of My Dreams." You can buy earRotator's album Holy Empire on iTunes, at CDbaby. You can see more videos by going to the earRotator channel on youtube.  Or go to the earRotator Facebook page.