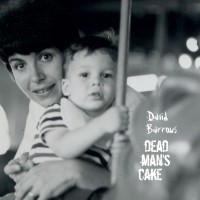 "Dead Man's Cake" by David Barrows – official release date January 1st, 2012.
Get more info on the Latest Release page. | Read what people are saying…. | Buy the download or CD
Twitter: @DaveBarrowsMuse —> #DeadMansCake | #SayNoToSuicide | #mentalhealth
About Dead Man's Cake:
American singer/songwriter/saxophonist David Barrows, now living in north London, returns to his rock roots with his new CD "Dead Man's Cake", a deeply personal, autobiographical album he wrote to try and make sense of a tragic event that happened in his childhood.
During the 1960s, David's parents were successful television writers in Hollywood, working on shows such as Mission Impossible, The Green Hornet and others.  They had achieved what would seem to be the Hollywood dream, but then the dream began to unravel.  One night when David was 6 years old, his mother Judy drove to the cemetary where her father was buried and committed suicide by taking an overdose of pills.
"Dead Man's Cake" is a metaphor for the pills she took, and for suicide generally.  Its anti-suicide message is clear in the chorus of the title track:  "Don't you eat that Dead Man's Cake."  The record traces David's road to recovery from the loss of his mother to the present day.
The album blends elements of rock, blues, jazz, funk and world music, with lyrics combining documentary, commentary, poetry, speculation and surrealism.  David wrote the words and music, sang lead and backing vocals, and played and arranged the horn section parts and saxophone solos.
David co-produced "Dead Man's Cake" with Richard Lobb (The Hours, Simon Lynge, Lucie Silvas).  The record has a great lineup of UK musicians collectively called "The Toybox Session Band."  Drumming duties are shared by Tom Meadows (Kylie Minogue, Duffy) and Ash Soan (Cee Lo Green, Seal, Adele).  Also featured are Jon Green, guitars (Duffy, Lucie Silvas, Matt Cardle); Ben Epstein, bass (Will Young); and Tim Jackson, piano and keyboards (Nell Bryden, Pixie Lott).
David has an eclectic resumé.  He studied with jazz legend Joe Henderson; wrote music for Oakland Opera Theater; toured Europe with the Klezmorim and South America with Quijeremá; and did pop-up gigs with earRotator at San Francisco anti-war protests.  He previously released 3 CDs on his indie label "Hounds of Renown Records", ranging from jazz and Pablo Neruda poems to political rocktronica.  "Dead Man's Cake" is his best work to date.
"Dead Man's Cake" is available for sale here.  Part of the proceeds go to US and UK mental health charities, particularly SANE.  David talks more about it on his personal blog.
Released: 01/01/12.