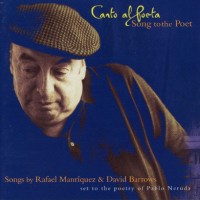 "Canto al Poeta" (Song to the Poet) – Songs by Rafael Manriquez and David Barrows,
Set to the Poetry of Pablo Neruda
© 2001 by Rafael Manriquez (BMI) and musaYcanto music
© 2001 by David Barrows and Hounds of Renown Music (ASCAP)
With permission from the Pablo Neruda Foundation.
You can buy it on PayPal by clicking this button:
This is a beautiful record featuring the musical compositions of Chilean composer, singer and guitarist Rafael Manriquez, and composer and saxophonist David Barrows.  Their collaboration came to fruition in 2001 when they released "Song to the Poet" containing 11 tracks of Pablo Neruda poems which they set to music.